BYJU'S – The Learning App
Learning App – Have Fun While Learning
If you are having trouble learning any topic or subject in school then you should give this learning app a try. BYJU's – The Learning App is an amazing app which makes learning a fun exercise for you and helps you prepare for exams like GRE and CAT. It has interactive and engaging lessons lined up for students of all ages which explain complex concepts in simple terms. Since all the lessons are in the form of a video, you won't have to read any boring text. A teacher is going to help you understand the concept you are having trouble understanding. They will use visual aids and props to make sure that all your doubts about the subject are cleared. Although useful, this app requires access to some private information which makes it a privacy risk.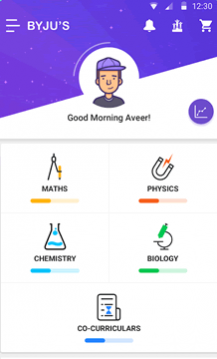 BYJU's – The Learning App has a user-friendly interface which makes it easy to interact with for students of all ages. It doesn't matter whether you are in 1st grade or studying for GRE, you won't find any issues in using this learning app. Moreover, the layout of this app has been designed very intuitively. This ensures that navigating the various sections and features of this app isn't difficult at all. Thus, anyone can use this app very easily to learn whatever they want. However, before you start learning anything, you need to sign up first. You will be asked some basic questions regarding your academic standing. The app will need your phone number too for sending an OTA via SMS. You will have to type in the OTA you receive to register your phone number and create your account.
This learning app covers all topics related to your academics. Whether you need help in mathematics or physics or you want to learn how to write essays in English, BYJU's has you covered. It has engaging video lessons which are designed to make the students understand the basic concepts of each topic. You will be taught by some of the best Indian teachers who have been teaching for many years. They will make the lessons as engaging and fun for you as possible so that you understand everything. You are offered quizzes and tests in this app too which let you see how much you have learned. Also, there are graphs available which help you in monitoring the progress you have made and identifying the areas you need to improve on.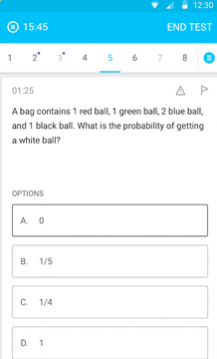 BYJU's – The Learning App lets you be in charge of your learning journey. You can customize your learning plans as per your preferences. There will be recommendations provided to you at every step which are going to help you in planning your lessons wisely. After every learning module, you will be offered revision sessions. In these sessions, you will be asked to go over what you have learned a second time. This will enhance your understanding of the topic and make sure that you commit it to memory. For students who are looking to get admissions in foreign colleges, this learning app provides tips regarding entrance exams. With these tips, you can easily clear the entrance exam and get admission in any college you want.
Features:
User-friendly interface
Intuitive design and layout
Lots of educational videos on offer
Learn from the best teachers in India
Understand difficult concepts in a fun way
Take on quizzes to improve your understanding of topics
Customize your learning plan as per your preferences
Monitor your progress and identify areas of improvement
Enhance your understanding of concepts with revision sessions
Prepare for exams and academic tests on the go
Tips available for clearing entrance exams of colleges
Conclusion:
BYJU's – The Learning App is an app which is marketed towards people who are struggling in their studies and are in need of immediate help. It provides them the chance to learn basic and complex concepts from the most qualified and reputable teachers in India in a fun and easy-to-understand manner. It is an excellent learning app and a must-have for all students.
---
Add a review
Tell us your experience with
BYJU'S – The Learning App
RELATED PROGRAMS
Our Recommendations
---
---
---
---